Engineered to Complete the Mission
We are proud to support our nation's federal government and armed forces. We understand that keeping your federal facilities moving and operating safely is critical to your mission. Whether you're a fleet manager, maintenance chief or operations supervisor, you need the right vehicle for the job.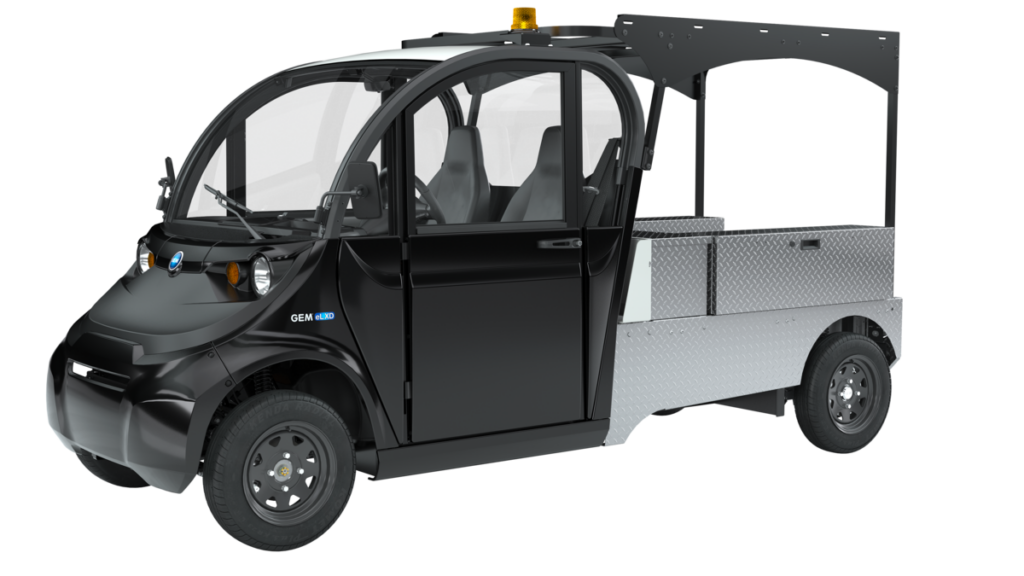 Why GEM?
GEMs are zero-CO2 emission vehicles, supporting the Federal Sustainability Plan to significantly cut greenhouse gas emissions by 2030

—

and helping meet environmental goals without compromising productivity.


GEMs meet and exceed LSV federal safety standards, promoting a safe work environment at your base. Safety features include three-point seatbelts, automotive glass windshields, turn signals, brake lights, an Occupant Protection System (OPS), street tires, backup cameras, optional doors and more.


Compared to vans and trucks, GEMs have a low total cost of ownership due to no fuel costs and lower maintenance costs. Compared to combustion engine alternatives, a GEM can save you nearly $4,000 to operate and maintain per year.


Street-legal under federal and state law, GEMs can be driven on most roads posted 35 mph or slower. And with a top speed limit of 25 mph on most US military installations, GEM LSVs are made for base travel.


With payload up to 1,400 lbs, 1,250 lbs of towing and 10 work packages, GEMs are highly qualified for the unique demands of the federal government.


GEMs are comfortable to ride with performance seats, 43" of available legroom and enough space to seat a 6' 8" passenger.


GEMs don't require charging infrastructure investment, one of the biggest barriers to EV adoption. GEMs charge via standard 110V outlets, fast chargers or a renewable power solar panel.
With tens of thousands of GEM low-speed vehicles and Taylor-Dunn industrial vehicles in the federal space today, our proven fleet is designed to help you accomplish your mission so you can stay focused on what matters most—protecting and promoting American security and prosperity.
Procurement Channels
To simplify your sourcing and purchasing process, we offer access to several federal procurement channels such as Small Business Reseller Partnerships, GSA and DLA Contract Programs and other Strategic Sourcing Programs. To learn more and get a quote, contact our Federal Government Team.
Federal Government Common Usage
Facilities maintenance and operations
Grounds maintenance
Shuttling and transportation
Deliveries
Distribution and warehousing
Equipment and supplies management
Maintenance &
Repair Package

We aim to be your long-term partner—going beyond the sale of our vehicles. We provide procurement tools, a two-year protection program, dedicated post-sales support, access to our network of support dealers and a 24/7 fleet management team.